It's the morning of the 105th birthday. Its Friday.
"She slept like a baby all night" says my brother who has stayed the night with her at the flat.
At 9.15am the special delivery of the card from the Queen arrives. Florence sleeps through the very loud doorbell.
She eventually wakes up when the District Nurse arrives to change a dressing on her leg. They usually come on Tuesday but The DN said she didn't want to miss the birthday so its Friday and she's doing an extra dressing. Then Florence's favourite carer Wynn arrives armed with a lovely bunch of yellow roses. Pete takes mum a cup of tea – on a tray with the Buckingham Palace card on the top and 55 other cards that have arrived in the last few days, those can all be opened a bit later.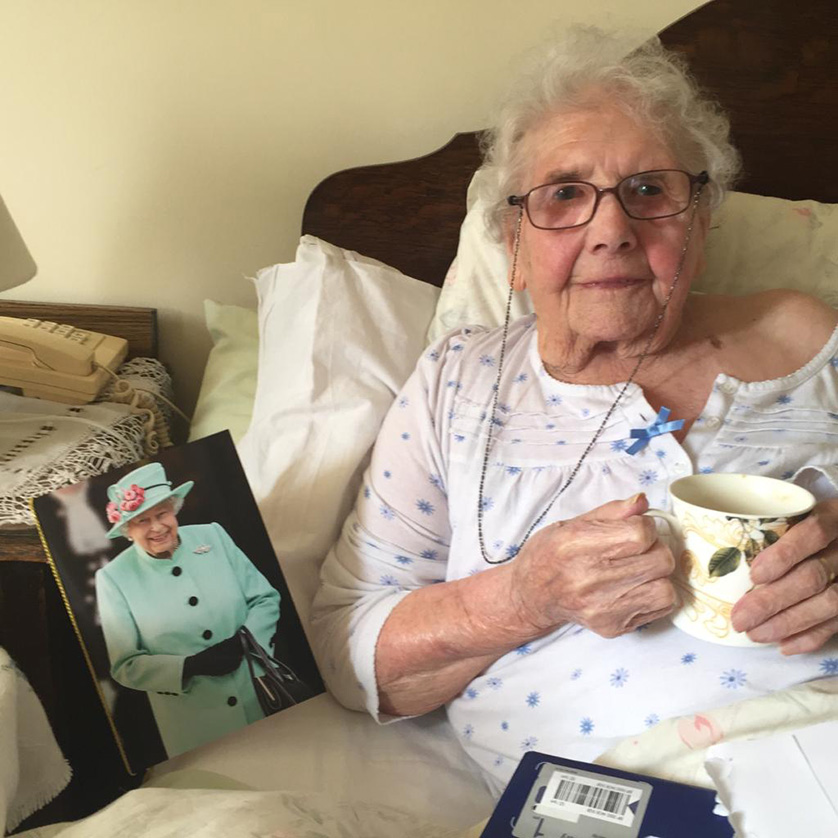 I phone to wish her happy birthday and ask her how it feels to be 105 "it doesn't feel any different" she says. She's helped to get up, wash and get dressed. She sits at the table with a cup cake with a candle in it, a cracker and a small glass of whisky & water (my brother promises it is very small) before her next cup of tea.
A couple of weekends before the birthday her carer had gone in to her flat in the evening and found her sitting on the floor just in front of her armchair, leaning up against it. She didn't seem hurt at all and couldn't quite remember how she got there. I was on my way to see her and I arrived a few hours later. In the days that followed each time I mentioned this 'fall' to various health professionals and family she would look cross and tell me and whoever else was around, in no uncertain terms, that she "did not have a fall". "Are you alright after your little fall" said one of the DNs with her face about an inch away from my mum, "what are you talking about, I didn't have a fall" Florence said glaring at her.
We figured after some debate, that she had decided to go out into the hall on her own to the toilet, using her walking frame of course. She had made it to the loo and back and slightly misjudged the chair sliding, we hoped relatively gently, on to the floor. Although seemingly not hurt she was decidedly discombobulated over the next few days. She slept almost constantly, when in her armchair, though she would not entertain staying in bed. Sleeping in her armchair is currently not in the least bit unusual, but this was different. She was 'out of it' for most of the time. Also, she could not or would not get up out of her chair without endless cajoling and without two people one on each side hauling her up. Then half way up she'd start shouting that she wasn't ready. She could hardly walk and doing anything took ages and ages and ages.
However, she gradually began to get better, to start sleeping a bit less and she seemed a little happier. How she actually manages to resurface in this way is a source of amazement to us all. This time it had been very extreme. She was so weak on one of the evenings I was sure she was nearing the end (yet again). My niece and I were with her all evening and eventually managed to get her into bed. The district nurse called in late in the evening to see her, the duty manager and one of her much loved carers came up to see her and I wondered if we were all saying goodbye. I went to sleep in her spare bedroom thinking that it was alright I would be with her and although it was a bit scary it would be OK. The one thing I had promised was that whatever happened we wouldn't take her to hospital. Just as I was dropping off to sleep, I suddenly sat up with a jolt, thinking – how many times has she done this before and come back? 'Don't count her out yet' I said to myself. Sure enough the next day while she was far from sprightly, she was awake by about 9am and asking for a cup of tea. Gradually she improved until on the day of her birthday and for quite a while after, she was back to being relatively mobile, relatively 'with it' and much happier.
Florence like her own mother Annie, supposedly has pernicious anaemia. This means she cannot process vitamin B12 from any food intake. Consequently she has for many years had a B12 injection every 10 – 12 weeks. It doesn't explain all her ups and downs, but after she has had it, we all, family and carers alike, swear that her physical and psychological well being picks up tremendously. It's a bit like a 'fix' and we have all determined to book ourselves in for a B12 injection sooner or later. She had had the injection about a week before her birthday.
The party, a few days after her actual birthday, was smaller than usual and a bit subdued. Since Florence's 100th we have been out to celebrate each of her subsequent birthdays with a nice tea and a good walk around at a series of quite posh stately homes. We have been to a different one each birthday. But this 105th year it had seemed best to all of us to have it in the lounge of the Court and to keep it small. She stayed in her wheel chair throughout the party. She didn't want to get out of it. She very rarely wears shoes anymore just nice warm socks and I thought perhaps she felt that it was just too much like hard work for her to move between chairs and do it In front of everyone.
Florence had a glass of wine or two or three through the afternoon. She kept forgetting she had one and managed to get someone to get her another, so there were quite a few around her, with just a few sips taken out of each one. Most of the other people with flats on her landing and a few of her carers came along as well as family and she had lots of people chatting to her. It was a bit difficult to engage with her for very long but everyone tried. When no one was talking to her she seemed to slip back into a little world of her own. But it was quite jolly, there was a fabulous cake, made as usual by the sister-in-law of one of the duty managers and lots of catching up with family members.
Most of the other guests who were residents of the Court sat around the sides of the room. There was a very sprightly white haired lady nipping around on a walking frame who said she was 94 and had formerly been a ballet dancer with Ballet Rambert. There was a friend of Florence from a flat on the other side of her balcony called Alan, who quite amazingly had worked for some time in the small village in North Wales where Florence had been brought up. He worked in buildings which were part of a former colliery where my grandfather, Florence's father had worked as the carpenter making and fitting the pit props that held up the coal shafts and the wooden pit wheel too. I had heard the story previously from Florence but it was great to talk to him about it. A year or so ago Florence had also discovered from the daughter of another of her neighbours that she (the daughter) also now lived in North Wales and was a teacher at the school where Florence had gone aged about 12 years old for cookery lessons and the school was still standing and operational. How did all these three with such wonderful historical links with a place at least 250 miles away come to be living on the same landing …….?